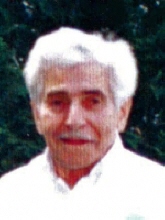 Obituary for Carl Sauberlich
Loving Father, Grandfather and Great-grandfather

Rockford - Carl Sauberlich, 87, of Rockford, formerly of Winnebago, died Friday, November 21, 2008, after a sudden illness. Born June 12, 1921, in Winnebago, the son of Charles and Minnie (Waterstreet) Sauberlich. He served in the U.S. Marine Corps from September 9, 1942 to June 20, 1945, as a heavy machine gunner in the South Pacific during WWII. Carl married Jean Niewa in Chicago on February 14, 1945; they moved to the Rockford area in 1947. In 1950 Carl and the family moved to Winnebago where he owned and operated a livestock trucking service with his brother, Herman. Carl then was employed as a custodian for the Winnebago School District for many years. He married Doris Mathena in Rockford, in 1959. Carl loved betting on the race horses, and was an avid Chicago sports fan, especially the Cubs, Bears and Bulls. A farmer at heart, he also enjoyed raising cattle.

Carl is lovingly survived by his daughters, Sandra (Elliott) Miles and Gail (Frank) DiGvonni, both of Winnebago, and Sue (Armand DeLeeuw) Larson; son, Jeffrey (Brenda) Sauberlich of Rockford; step-children, Jerry (Lorraine) Sternadel and Sandy (Sam) Buckbee, both of Kansas; grandsons, Randy and Greg Dodson, and Jeremiah McConnell; great-grandchildren, Danielle Dodson and Ethan McConnell, all of Rockford; and numerous nieces and nephews.

Carl was predeceased by his parents; eight brothers and four sisters.

Funeral Information

Service is at 11:00 a.m., Wednesday, November 26, 2008, in Genandt Funeral Home, 602 N. Elida St., Winnebago, with Pastor Tim Spickler, of New Life Bible Church, in Winnebago, officiating. Burial in Winnebago Cemetery, in Winnebago. Visitation 5:00 p.m. to 7:00 p.m., Tuesday, November 25, 2008, in the funeral home.
Read More