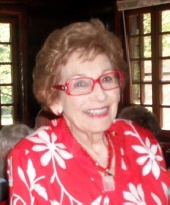 Obituary for Eleanore E. Ramsey
Eleanore Virginia Barrett Edwards Ramsey, 91, of Mt. Morris, peacefully passed away on Sunday, April 14, 2013, surrounded by her three daughters. Born in Evanston on July 25, 1921, to Louise Barrett Edwards, October 21, 1898 to June 26, 1962 and William Norman Edwards, November 5, 1895 to April 6, 1957. She attended Earlham College, class of 1943, and married Arthur Decatur Ramsey, of Memphis, Tenn. on January 16, 1943 in Spokane, Wash. She was a sixteenth generation descendant of Stephen Hopkins of the Mayflower. Eleanore had a charismatic personality and impacted many lives through philanthropic organizations both state and local such as the Illinois General Federation of Women's Clubs, PEO, Ogle County Home Extension, Ogle County Republican Woman's Club, and State board of Girl Scouts of the USA.

Eleanore was preceded in death by her husband, Arthur, May 31, 1915 to December 13, 2002; sister, Dorothy Louise Randall, June 2, 1920 to January 1, 1995; and daughter Joanne, 1946 to 1951. Eleanore is survived by her brother William Norman Edwards; her eldest daughter, also named Eleanore Edwards Ramsey and her husband Dr. Andrew Thomas Nadell of San Francisco, Calif.; her daughters, Janet Louise First and her husband Donald Keith First of Dowagiac, Mich. and Dorothy Rupprecht and her husband Kurt Hans Rupprecht of Rockford. She is also survived by five grandchildren and five great-grandchildren.

Funeral Information

Service is at 10:30 a.m., Thursday, April 18, 2013, in Disciples United Methodist Church, 102 Maple Avenue, Mt. Morris; Pastor Doc Newcomb will officiate. Cremation rites were accorded. Burial in Memorial Park Cemetery, Skokie. Visitation 5:00 p.m. to 7:00 p.m., Wednesday, April 17, 2013 in the church.
Read More