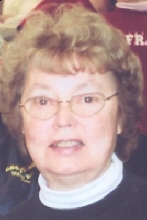 Obituary for Louise C. Heeren
Loving & Faithful Wife, Mother & Grandmother

Winnebago - Louise C. Heeren, 76, of Winnebago, died Saturday, October 16, 2010, in her home, after a lengthy illness. Born November 30, 1933, in Woodstock, the daughter of Lyman and Therese (Larson) Gilliland. Graduated from Winnebago High School in 1951 and attended University of Illinois. Louise married Karl Heeren on April 14, 1977. Together they operated Karl Heeren Trucking and Farming. She was Seward Congregational Church's organist and member of its bell choir and a member of Winnebago County Beef Producers Auxiliary. Louise was known as a kind-hearted soul that saw everything in a positive light and would help anyone of need. She was an avid, extremely competitive game player, enjoyed playing golf, cooking, baking, and traveling with Karl.

Louise dearly loved and cherished time with her family and will be greatly missed by her loving family, including her husband, Karl Heeren of Winnebago; children, Gary (Debbie) Daub of Byron, Bruce (Jamie) Daub and Teresa (Randy) Crull, both of Winnebago, David (Teresa) Daub of Texas, and Kristine Daub of Winnebago; grandchildren, Shannon and Jason (Christine) Daub, David, Daniel and Dylan Daub, Austin, Kylie and Brennan Crull, Katie and Wesley Daub, Mitchell and Makenzie Heinen; great-grandchildren, Noah and Ayden Daub; stepchildren, Janet Klinger of Winnebago, Jeff (Demaree) Heeren of Davis, Shirley (Dave) Heslop of Winnebago, Leslie (Roger Bybee) Heeren of Pecatonica, Kathy (Craig Ellis) Heeren-Ellis of Winnebago and Sarah (Bob) Oliai of Texas; stepgrandchildren, Jonathan and Julie (Nick Bojda) Klinger, Mark (Tracy), Lisa (Jason), Michael, Mathew (Crystal) and Nicklas Heslop, John (Jennifer) Heeren, Kat McNamara, Lucas and Laura Bybee, Cole and Chandler Ellis, Evan and Sophia Oliai; five stepgreat-grandchildren; sister, Dorothy Spielman of North Fort Meyers, Fla.; brother, Duane Gilliland of Jacksonville, Fla.; several nieces and nephews; and her faithful dog, Buster. She was predeceased by parents and brother-in-law, Tom Spielman.

Funeral Information

Service is at 10:30 a.m., Wednesday, October 20, 2010, in Seward Congregational Church, with the Rev. Ronald C. Farb officiating. Burial in Winnebago Cemetery. Visitation 5:00 p.m. to 8:00 p.m., Tuesday, October 19, 2010, in Genandt Funeral Home, 602 N. Elida St., Winnebago.
Read More