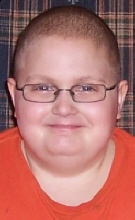 Obituary for Benjamin Ray "Ben" Johnson
Pecatonica - Benjamin Ray "Ben" Johnson, 13, of Pecatonica/Winnebago, died Wednesday morning, April 28, 2010, in his home, surrounded by his loving family, after a long courageous battle with cancer. Born September 17, 1996, in Rockford, the son of Jim and Peggy (Weerda) Johnson. He attended Winnebago Middle School and Middle Creek Presbyterian Church. Ben was an avid Fighting Illini and Chicago Bears fan and loved family vacations to Disney World.

Ben is lovingly survived and dearly missed by his parents; sister, Katelyn Johnson; and grandparents, Gary and Julie Johnson, all of Pecatonica; great-grandmother, Mary Jane Roskam of Rockford; uncles, David (Traci) Johnson and Mike (Bev) Weerda, both of Winnebago; and aunts, Lori (Tim) Cart of El Paso and Kim (Dave) Hassel of Winnebago; great-uncle and aunt, Randy and Debbie Trei of Rockford; and cousins, Jim (Anne) Weerda, Gregg (Jackie) Weerda, Stefanie Hassel and Staci (Brent) Thompson, Jack and Claire Johnson and Josh and Kelli Trei. He was predeceased by his grandparents, Jerry and Mayvis Weerda; and great-grandparents, Merrill Roskam, and Raymond and Marjorie Johnson.

Funeral Information

Service is at 2:00 p.m., Sunday, May 2, 2010, in New Life Bible Church, Route 20 at Hoisington Road, Winnebago, with the Rev. Anita Stuart-Steva, pastor of Middle Creek Presbyterian Church, Winnebago, officiating. Burial in Twelve Mile Grove Cemetery, Pecatonica. Visitation 3:00 p.m. to 7:00 p.m., Saturday, May 1, 2010, in Genandt Funeral Home, 602 N. Elida St., Winnebago.
Read More