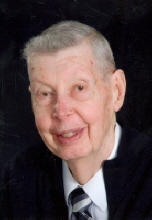 Obituary for Richard "Dick" Allen Drogemuller
Rockford - Richard Dick Allen Drogemuller, 83, of Rockford, died Friday, December 30, 2016 at Wesley Willows Retirement Center in Rockford surrounded by his loving family. Born November 19, 1933 in Chicago the son of Henry and Gwen (Siebold) Drogemuller. Raised in Elmwood Park, graduating from Leyden High School in 1952 and the University of Illinois in Champaign with a Bachelor of Science in Civil Engineering in 1960. Retired after 28 years from IWT/US Filter working as Project Engineer, in Finance, Management, and Field Construction. Prior to that he worked with the FAA, DeJung and Associates, State of Illinois Highway Department and the Soo Line Railroad. He served in the US Army and then the Army reserves for 8 years being honorably discharged on July 31, 1963. Dick was a member of Burritt Community Church and held many positions including Treasurer. Dick married Barbara P. Crandall on February 15, 1958 in the Burritt Community Church and then built their dream home on a corner of the Crandall farm in 1965 living there for some 47 years until moving into Wesley Willows in 2006. Dick enjoyed the challenge of teaching line dancing for 20 years as well as basketball and softball officiating, plus volunteering at Wesley Willows and the Burritt Community Church. Dick also served over 20 years on the Burritt Township Cemetery Association watching over the beautiful country cemeteries and also loved playing bridge, racquetball, puzzles, teasing, and reading.

Dick leaves behind a son, Doug (Shelly) Drogemuller of Clarkston, MI; two daughters Laura Sanders of Columbus OH and Cindy (Steve) Thompson of Hillsboro, OR; seven grandkids, Ryne, Brandon, and Jessica Drogemuller, Stephanie and Brittany Sanders, Steven (Michelle) Thompson II, Amanda (Curtis) Miller; 7 great-grandkids, Alexus, Lily, Sophia, Tripp, Tommy, Cashton, Weston; brother Ken Drogemuller of Downers Grove.

Dick is predeceased by his much missed wife Barbie Crandall of 53 years, his parents, and sister-in-law Carolyn Drogemuller.

Funeral Information

Memorial service 10:00 a.m. Saturday, January 7, 2017, in the Wesley Willows Chapel, 4141 N. Rockton Ave., Rockford with Chaplain Mike Weber officiating. Cremation rites are accorded. Arrangements by Genandt Funeral Home, 602 N. Elida St., Winnebago.
Read More