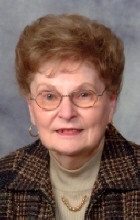 Obituary for Virginia Mae Stiles
Loving Mom, Grandma and Great-Grandma

Winnebago - Virginia Mae "Ginny" Stiles, of Winnebago, who just celebrated her 90th birthday with family and friends, passed away on Saturday, Nov. 12, 2011, in Rockford Memorial Hospital. She was born on Oct. 22, 1921, in Rockford, the daughter of John Gatz and Harriett (Kostka) Borst and step-father Roy Borst. Ginny married Eugene E. "Gene" Stiles on Nov. 29, 1941, in Rockford and he died on March 24, 1976. Ginny graduated from Rockford Central High School. She retired after working for many years at the Winnebago County Farm Bureau. Ginny was a member of the First Presbyterian Church in Winnebago where she was very active in their women's circle and in their women's club. Ginny was also a volunteer at the Rockford Memorial Thrift Shop for many years. She loved to travel and was able to enjoy this often with her family and friends.

Ginny is lovingly survived by her son, Steven (Luann) Stiles of Rockford; her daughters, Sharon Ayersman of Rockton, Nancy (Robert) Pedersen of Deerfield; her grandchildren, Steffanie (Jeff Lee) Stiles of Omaha, Nebr., Luann (Scott) Pelczynski of Genoa City, Wis., Lindsey Pedersen of Fort Lauderdale, Fla., Ryan Pedersen of Chicago; her great-grandson, Nicholas Pelczynski of Genoa City, Wis.; her sister, Lorraine (Carl) DeMars of Bradenton Beach, Fla.; her nephew, Douglas DeMars of Bradenton Beach, Fla.; her niece, Barbara DeMars of Bradenton Beach, Fla.; her sister-in-law Mary (William "Bill") Milanos of Rockford; and numerous nephews and nieces. She is predeceased by her husband; her parents; her step-father; her brother-in-law, Robert Stiles who died in WW II; and her mother-in-law Margaret Wurth.

Funeral Information

Services will be held at 11:00 a.m. Monday, Nov. 21, in Genandt Funeral Home, 602 N. Elida St., Winnebago, with the Rev. Steve P. Shullanberger, pastor of First Presbyterian Church, Winnebago, officiating. Burial will be in Willwood Burial Park in Rockford. The visitation will be from 10:00 a.m. until service time Monday at the funeral home.
Read More