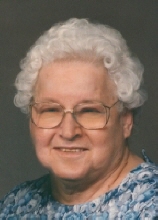 Obituary for Edna C. Denekas
Edna Catherine Denekas, 89, of Rockford Illinois went to her eternal home on Tuesday, May 31 2016 at Rockford Memorial Hospital. She was born October 28, 1926 in Tollesboro, Kentucky. She is the daughter of the late Joseph and Mary Mason. Edna was first joined in marriage to Melby Lee Ruark in February 1947, who later passed away in August 1951. She was then joined in marriage on August 31, 1962 in Peru, Indiana to Robert W. Denekas and later made their home in Rockford, Illinois. Edna previously worked at Amerock Corporation where she retired in 1981. She was a faithful member at Auburn Road Church Of The Nazarene located in Rockford, Illinois. Edna enjoyed spending time reading her Bible, camping trips with her family, tending to her garden along with having an avid love of cooking for her family and friends.

Edna is survived by her loving husband of 53 years, Robert Denekas along with her children, Norma (Wayne) Guillaume of Peru, Indiana, Shirley (Stephen) Grant of Greenbrier, Arkansas, Dale (Patsy) Ruark of Peru, Indiana, Danny (Cheryl) Denekas of Yorkville, Illinois and Mark Denekas of Rockford, Illinois. She is survived by 12 grandchildren and numerous great-grandchildren. She is also survived by her sister, Dorothy (Donald) Hoagland of Lake Placid, Florida along with numerous nieces and nephews. Edna was preceded in death by her parents, 1 sister 5 brothers.

She will be dearly missed by those that love her and knew her well.

Funeral Information

Visitation from 11:00 a.m. to 2:00 p.m., Saturday, June 4, 2016 in Genandt Funeral Home, 602 N. Elida St., Winnebago. Service will be at 1:00 p.m., Tuesday, June 7, 2016, with visitation from noon until service time at Barbour Son Funeral Home, Tollesboro, KY. Burial in Mount Tabor Cemetery, Tollesboro.
Read More