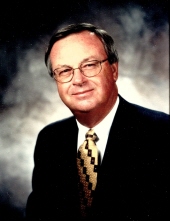 Obituary for Douglas Lee Mitchell
Douglas Lee Mitchell, 79, of Winnebago, died Thursday, January 12, 2023 at Serenity Hospice and Home in Oregon, surrounded by his loving family.
He was born on August 8, 1943 in Lena to William and Maxine (Ortmeier) Koch. William died serving in WWII soon after Doug was born. Several years later, Maxine married Jay Mitchell. Jay adored Doug and adopted him as his own. They gave Doug five other siblings throughout their marriage.
Doug married the love of his life, Bonnie Katzenberger, on August 23, 1964 at St. John's Lutheran Church in Pearl City. They had two daughters, Nicole and Angela. His daughters gave him 5 beautiful granddaughters to love and spoil and they were the light of his life. He truly adored being their Papa until his last breath.
Doug graduated from Illinois State University in Normal with his Bachelor and Masters in Business. He also earned his Masters of Banking from the University of Wisconsin in Madison. His banking career encompassed 44 years. Throughout that time he was a trusted advisor to many and truly dedicated his life to helping his community. He was the president of the Winnebago Chamber of Commerce and an active member of the Winnebago Lions Club. He was also the founding member of the Winnebago Foundation for Educational Excellence, which still exists today.
Doug loved fishing with his buddies in Canada or in his small boat on Lake Carrol. He also loved golfing with his wife, Bonnie at Mauh-nah-tee-see Country Club where they had many wonderful memories with wonderful friends. And you could always count on him for a good story whether you wanted to hear it or not.
Survived by his wife of 58 years, Bonnie Mitchell and daughters, Nicole Mitchell (Matt) and Angela Alton (Jerome) and his 5 beautiful granddaughters (Riley, Logan, Emerson, Willow and Sawyer). He is also survived by his 4 siblings, Brad Mitchell (Debbie), Martha Mitchell, Lori Kempel (Joel) and Luann Byers (Perry), sister in law, Teri Mitchell, brother in law, Nick Katzenberger (Lenore) and many nieces and nephews as well as great nieces and nephews.
Preceded in death by his parents, Jay and Maxine Mitchell and William Koch, his in-laws, Harold and Victoria Katzenberger and his brother Mark Mitchell.
A visitation and celebration of life will be held on January 28, 2023 at the Wagner House, 1 E Spring St., Freeport, IL from 12:00 p.m. to 3:00 p.m. Please join us for a light lunch and beverage to celebrate his wonderful life.
Doug wanted to continue his dedication to his community by his memorial supporting various contributions for the Winnebago girl's athletics which gave him and Bonnie such wonderful memories through their daughters' high school careers. He also wanted to donate to the Serenity Hospice and Home in Oregon, IL, which gave him such wonderful care in his final days.
In lieu of flowers, memorials can be sent to Doug's family or the Doug Mitchell Memorial, C/O US Bank Winnebago Branch, 606 N. Elida St., Winnebago, IL 61088.
Cremation rites accorded with interment at Highland Cemetery in Pearl City. Arrangements by Genandt Funeral Home, 602 N. Elida St., Winnebago. For an online obituary and tributes go to www.genandtfuneralhome.com.
Read More
Previous Events
Visitation and Celebration of Life
The Wagner House
1 E. Spring St.
Freeport, IL 61032
Memorial Contribution
Winnebago Girl's Athletics
Serenity Hospice and Home in Oregon